Welcome to our section Film. Theater. Festival. The will of the HappenArt, Art & Culture Platform team is to offer you its best selections of films and events that will interest you.
Film, Theater, Festival, submission your work here ⇒
---
FILM
Peter Campus
Video art
Location: US
The American artist Peter Campus (born in 1937 in New York) is among the most influential video pioneers alongside Bruce Nauman, Nam June Paik, Joan Jonas, Vito Acconci and Bill Viola, assistant to his first major exhibition at the Everson Museum of Art in Syracuse, New York, in 1974. Throughout his career, Peter Campus has produced videos, installations, and a large number of photographs. In his recent video works, he uses digital techniques to work on the image pixel by pixel like a painter. It's with a camera
very high definition that he continues his current experiments. Today, many of his works are part of the collections of major contemporary art museums around the world.
---
FILM
BÜRO ACHTER APRIL 
Digital art, video 
Location: Berlin (Germany)
This special digital video is based simply on a dot and a dash. It comes from Büro Achter April, an innovative design studio that experiments with interactive applications. It made its stunning debut at Transmediale, a digital arts and culture festival in Berlin and is a prime example of how digital works can enhance our built environment.
Generate chaos.
Speaking of their philosophy, Büro Achter April says: "We work to generate disorder. By dismantling expectations, we hope to reach a new path, a different perspective, or an unexpected breakthrough. While we avoid taking ourselves too seriously, we can also be uncompromising when it comes to bringing concepts to fruition.
Create content.
They continue that their goal is to generate content, not just cool pixels. Creating content and giving meaning to our built environment are their overarching design goals and they believe that space, interactive media and film can all produce a common goal, be it commercial or artistic. 
The credits are as follows: Performer: Bora T.
Concept / Idea; Büro Achter April
Director: Moritz Reichartz
Art direction: Michael Fragstein
Director of photography: Julia Schlingmann
Lighting designer: Anna Göhrig, Benjamin Wieg
Stylist: Ule Barcelos
Editing / Animation / Compositing: Moritz Reichartz
Sound design: Marc Fragstein
Producer: Turan Tehran
Courtesy of WALL AG
---
THEATER
Love by Alexander Zeldin
Park Avenue Armory – Fab 25 to March 25, 2023 New York (US)
Having dazzled UK audiences at the National Theater and garnered widespread acclaim around the world, this engaging new play makes its North American premiere and marks the New York debut of writer and director Alexander Zeldin. This powerful piece of drama. Written after a years-long process of community collaboration and immersion, personal interviews, and first-hand accounts. Draws attention to the cracks in the welfare system when several families are brought together in a shelter in the lead up to Christmas.
Reality.
The audience is invited to step inside their reality and bear witness to some of the touching, humorous, and profoundly human instances of their combined existence. Played with the house lights up and audience members seated amongst the company. The heart-breaking production reveals the cast seeming to live rather than act. The result is an authentic and intimate story for our times that shows rather than tells, born out of the daily rituals of survival to expose the humanity behind housing insecurity.
Park Avenue Armory→  643 Park Avenue New York, NY, USA 10021
---
FILM
Pipilotti Rist: Big Heartedness, Be My Neighbor
The Geffen Contemporary at MOCA – Sep 12 to Jun 21, 2022 Los Angels (UK)
Pipilotti Elisabeth Rist (born June 21, 1962) is a Swiss visual artist best known for her creations of experimental video art and installation. His work is often described as surrealist art. Respondent. Abstract, having a concern with the female body. Her work is often classified as feminist art.
Rist's work is known for its multisensory qualities. With overlapping projected images that are very saturated with color. Associated with sound components that are part of a larger environment with spaces for spectators to rest or bask. Rist's work often transforms the architecture or environment of a gallery of white cubes into a more tactile, auditory and visual experience.
---
FILM
JR "OMELIA CONTADINA"
Galleria Continua – Until 21 Jul, 2021 San Gimignano (Italy)
This exhibition presents JR's latest film, "Omelia Contadina". A short film directed with the Italian director Alice Rohrwacher. The film will premiere in the Special Screenings section of the 77th Venice International Film Festival (2020). It aims to prevent the disappearance of traditional rural culture. JR develops this theme in his solo exhibition in San Gimignano. Via a series of photographic works made on glass. Paper and plaster. As well as a site specific installation. It not only fills and transforms the scene. But also the whole area of the stalls of the old cinema and theater which houses the gallery.
Galleria Continua→  Via del Castello 11 – 53037 San Gimignano (SI) | ITALIA
---
FILM
Matthew Barney: "Redoubt"
Hayward Gallery – May 19 to July 25, 2021 London (UK)
See the artist's first solo presentation in the UK in over a decade. With the UK premiere of a new feature film 'Breathtakingly Beautiful'.
The Matthew Barney: Redoubt exhibition includes a feature film, Redoubt (2018; 134 mins). The film is shown on repeat. The approximate start times for full film screenings are as follows:
Wed – Sat: 11:05 am. 1:20 p.m. 3:40 p.m. Sun: 10:05 a.m. 12:20. 2:40 p.m.
In addition to viewing the film in the exhibition at the Hayward Gallery. Ticket holders can watch it online through the MUBI movie streaming platform.
MUBI.
A unique code and link is included on e-tickets to the exhibition. They are emailed to ticket holders after purchase. Use them to watch the film on MUBI between Friday May 12th and Sunday August 1st. Access to the film and MUBI lasts seven days after activating the unique code. Please note that the unique code can only be used once. The film is only available to UK audiences.
Hayward Gallery→ Belvedere Rd, South Bank, London SE1 8XX, UK
---
FILM
Cao Fei "Staging the Era"
UCCA – Until June 6, 2021 – Beijing (China)
Cao Fei's first major solo exhibition in China. And the largest and most comprehensive career retrospective to date. Brings together the works of the artist's two-decade career. Situating the threads present in his diverse practice amid the rapid development of contemporary society.
Experimental Theater.
As one of China's most prominent contemporary artists. Cao Fei (born 1978 in Guangzhou) uses multimedia formats. Movie. Video. Virtual reality and installation. It surrealistically describes the dramatic social changes in a globalizing China and its conditions. "Staging the Era" brings together the vast array of works from Cao Fei's two-decade career to date. The Experimental Theater has been working since its early years as a student at the Guangzhou Academy of Fine Arts. Until his last large-scale interdisciplinary research project on history. The echoes of the district of Beijing that she calls home today.
UCCA →  798, No.4 Jiuxianqiao Street Beijing, China 100103
---
THEATER
Swimming Pools
Dirección: Sleepwalk Collective
Teatro de La Abadia – Dec 9 to Dec 13, 2020 Madrid (Spain)
Swimming Pools es el proyecto de nueva creación de la compañía hispano-británica contemporánea Sleepwalk Collective.
A través de una serie de cuencas imaginarias. Dispuestos como los niveles ascendentes de un videojuego retro. Se desborda una secuencia de monólogos íntimos, todos equilibrados en el delgado borde que separa la revelación del delirio. Mientras nuestros protagonistas susurran y realizan sus confesiones a través de voces. Los cuerpos de las cuatro mujeres que habitan el escenario. La propia piscina se vuelve a concebir como una especie de utopía artificial. Un paraíso en miniatura, un lugar de milagros. Belleza extática y de otro mundo.
Lucha sin miedo contra los peculiares demonios de principios del siglo XXI. Capitalismo despiadado. Masculinidad tóxica. Aburrimiento cibernético y fatiga emocional. Swimming Pools es una nueva pieza psicodélica sobre el deseo y la melancolía. Parece que podríamos vivir juntos bajo una mirada cegadora. desde el futuro.
Teatro de La Abadia→  https://www.teatroabadia.com/
---
THEATER
Christmas Carol – Online
Manual Cinema's – Dec 3 to Dec 20, 2020 Chicago (US)
The innovative interdisciplinary performance collective Manual Cinema. Discusses Charles Dickens' famous vacation story. Using hundreds of paper puppets. Miniatures. Silhouettes and an original live score to bring the classic story to life. In this timely interpretation, the vacation skeptic. Aunt Trudy, decides to stage a Christmas puppet show for her family on Zoom. Eventually, the puppets begin to make their own choices. Leading the story and leading Trudy to an awareness of his Scrooge tendencies. Streaming throughout the month of December. Viewers can purchase tickets for themselves, duets, trios or the whole family at different prices. Each performance ends with a live "Puppet Time" chat with the artists behind the show.
Manual Cinema's→  http://manualcinema.com/christmascarol
---
THEATER
BARDOLINO 2020
Script and direction by Marc Charriot 
Theater : Les rendez-vous d'ailleurs – Oct 21/22, 2020 Paris (France)
A Saturday evening in December. In a difficult area of a large city north of Paris. Marlène, a young guitarist, finds herself stuck in the elevator of one of the two towers that make up the City of the Grandes Croix.
Time passes and the emergency breakdown system seems to be totally out of order. Fortunately, during his tour, Alexandre, delegated security agent of the city, hears noise in the elevator.
Used to this situation, he applies his usual "Pro-to-school" while waiting for help: dialogue, sharing, comfort and, even, impromptu dinner! But, that night, things seem to take a whole different turn.
Perhaps the improbable prisoner of the elevator is not there by chance …
Marcolandcie→ 109 RUE DES HAIES – PARIS 20e
---
Serendipity
Directed by Prune Noury
SERENDIPITY Ability, art of making a discovery. Scientist, by chance.
The artist's work has always explored issues around the human body. For 10 years, his work has been focused on gender selection. Also on the definition of femininity in different cultures. The possibilities offered by science. At age 31, she shows her career. By transforming a personal event into a true artistic epic.
Opening / Preview of the film: – Oct 21, 2019 MK2 Bibliothèque : 162 Avenue de France 128, 75013 Paris (French)
---
THEATER
LA GUERRE DES PISCINES 
Directed by Yves Navarre.
Actor : Celia Gruss. Bénédicte Blanc-Fontenille. Duc Long Dinh.
From Dec 12, 2019 Miami (USA)
In a large shopping center located outside the city. Two women work as living mannequins in a shop window of garden and swimming pool items. Under an artificial neon sun. Clothing. Bath towels. Garden furniture, everything is for sale. Cat and Fan must give the illusion of perfect happiness all day long. In the sun at the edge of a swimming pool in which moved in silence. But all the muscles outside the handsome Bob. To pass the time, Cat and Fan invent stories. Imitate characters. Will be happy. Love each other. Clash under the gaze of passers-by more or less voyeurs. The true / false duality punctuates the play to the end. Even at the time of the final drama.
70's
The Pool War. A tragicomic play written in the 1970s is still surprisingly topical. Also addressing the themes of loneliness. Of love. From appearance and consumption.
La Guerre des piscines – The M Building 194 Northwest 30th Street Miami, FL 33127 USA
Ticket : .https://www.eventbrite.com/e/la-guerre-des-piscines-tickets-77666666089?aff=ebdssbeac
---
The Music of Regret
Directed by Laurie Simmons 
As an extension of Simmon's work. In the form of miniatures. From idiosyncratic and imaginative photographs, The Music of Regret stars the legendary Meryl Streep. Alongside a vintage puppet cast. The story revolves around the turmoil. Provoked by two families in conflict. Also, it also includes a ballad. The subject of dependence and communication. As well as anthropomorphic pocket watches. A rare treat shot on 35mm that must be seen to be believed.
Oct 27, 2019 : Quad Cinema – 34 W. 13th Street New York, NY 10011
---
Double Happiness
Directed by Ella Raidel
In the Chinese region. Double Happiness is understood as that happiness. That automatically doubles when two people decide. To live together forever. Ella Raidel chose this beautiful optimistic image. As the title of her first long documentary. But perhaps we should not even talk about documentary. Certainly not the commercialized documentary on globalization. Because it is rather a film very intelligent. Sharp and especially empathy and flair cinematographic.
---
The White Crow 
Directed by Phil de Semlyen
A young man of just 22. Dressed in a black beret and a dark narrow suit. Is on an airplane flying from St Petersburg to Paris. It is 1961 and Rudolf Nureyev. Not yet the imperious figure of legend. Is a member of the world-renowned Kirov Ballet Company. Travelling for the first time outside the Soviet Union.
Parisian life delights Nureyev. The young dancer is eager to consume all the culture. Art and music the dazzling city has to offer. But the KGB officers. Who watch his every move become increasingly suspicious. Of his behavior and his friendship. With the young Parisienne Clara Saint.
May 2019
---
International Festival of Vidéo Art of Casablanca
Franch Institute – April 23/27, 2019 Casablanca (Marocco)
The International Festival of Video Art of Casablanca (FIAV) will blow its 25th candle. In this edition of 2019, the focus will be on transhumanism. Organized by the Ben M'Sik Faculty of Arts and Humanities of Casablanca. This festival will be held in several spaces of the economic capital. the French Institute, the Studio of Living Arts. Marsam Art Galleries. H2 space. Among others, from the 22nd to the 27th of April. Facilities, 360-degree virtual reality experiences. Projects, conferences as well as Masterclass. Among other activities, are planned. We met Majid Seddati, artistic director of this UFO festival. Since unknown and not supported, to explain us. In three questions, this futuristic event. Who will bring together more than 50 national and international artists.
FIAV Institut Français – 121, Boulevard Mohamed Zerktouni, Casablanca (Marocco)
---
Grand Hôtel Barbes
Directed by Ramzi Ben Sliman (French)
Ramzi Ben Sliman highlights the surprising marriage between the classical world. And the urban choreographic arts. Paris, the Goutte-d'Or neighbourhood. Spring 2018. Ulysse. An impoverished and listless 20-year-old runs into Wolfang Amadeus Mozart on the corner of a street. The Austrian composer could help him out of a tight spot. In exchange for a dance.
---
Dreams that money can buy (1947)
Directed by Hans Richter (German)
Surrealist painter and Dada film-theorist Hans Richter wrote, produced. And directed the experimental exercise Dreams That Money Can Buy. One of the most significant contributions to the 20th-century "avant garde" movement. The project began in 1944. While Richter was director of the Institute of Film Techniques. At City College in New York. Combining short scenarios written by such world-renowned artists as Max Ernst. Marcel Duchamps. Man Ray. Alexander Calder and Fernand Leger. Richter came up with a full-color. Feature-length study in dreamlike "wish fulfillment". The film's only nod to continuity is the presence of a self-styled heavenly psychiatrist.
$25,000
Whose patients purportedly visualize the images which play across the screen. Described by one observer as "surreal yet somewhat Jungian". Dreams That Money Can Buy cost $25,000. And was three years in the making (Richter liked to take his time. His later Dadascope took five years). Its New York premiere was greeted with a mixture. Of bravos and bewilderment. Especially when the projectionist elected to show. The film on the wall and ceiling rather than the screen. One assumes that the projectionist was less capricious. When Dreams That Money Can Buy won a special prize at the 1947 Venice Film Festival.
Full Version 1'19"39
---
Vicious Cycle
Directed by Michael Marczewski (England)
Michael Marczewski is a Motion Designer and Director working at ManvsMachine. A Cannes Gold Lion award winning design. And motion studio based in London. However Michael's new film, Vicious Cycle, is a passion project. That features cute robots driven by exponentially malfunctioning mechanisms. Which comedically destroy the lovable bots. I sat down with Michael to pick his brains about how he conjured. A particular aesthetic style to lull the audience into a false sense of automated security.
Website : michaelmarczew.ski
---
Human Flow
Directed by Ai Weiwei (Chinese)
Documentary by director Ai Weiwei. Which premiered at the Venice International Film Festival in February 2017. Human Flow tells the stories of a handful of individuals. Who lived through or have experienced humanitarian crises. Throughout the film, the spectator is transported. To over twenty countries where the migratory crisis is underway.
Offering the testimony of migrants fleeing war. Famine or repression, as well as that of executives. And humanitarian workers trying to assist them in their desperate search for security. Justice and dignity. A multiple award-winner. Human Flow is an artistic. Factual and moving visual expression of the profoundly personal consequences of the migratory crisis in Europe.
National Holocaust Museum – Dec 09, 2018 Amsterdam (Netherlands)
---
"Evolver"
 Terrence Malick's New project has Music by Jonny Greenwood (USA)
Cinephiles will probably want to sit down for this news. Terrence Malick and Jonny Greenwood are teaming up. The director is executive producing the virtual reality project "Evolver". Which is set to feature original music from Greenwood. The project was originally announced to be included at the upcoming VR Days Europe. In collaboration with the Rotterdam International Film Festival. But it has since been confirmed not to be heading there next year.
"Evolver" allows users to experience the lifespan of the human condition. From birth to death. The project is produced by House of Secrets. An animation and VR studio located in the Netherlands. And features new music not only from Greenwood but also from Wu-Tang Clan and more. Greenwood earned an Oscar nomination earlier this year for his work on Paul Thomas Anderson's "Phantom Thread". And handled score duties on Lynne Ramsay's "You Were Never Really Here."
His taste for the experimental. Terrence Malick proves it already through an atypical narration filmography. With The Tree of Life. Wonderfully, Knight of Cups or Song to Song. By 2018, the Texas director had already tried the immersive experience with the short film Together. A dive of more than six minutes in a choreographic ballet. Where dance merged with technology.
"Together" Short movie 6′ (2018)
---
COLETTE
  (2018)
Directed By Wash Westmoreland (USA)
After marrying a successful Parisian writer known commonly as "Willy" (Dominic West), Sidonie-Gabrielle Colette (Keira Knightley). Is transplanted from her childhood home in rural France to the intellectual and artistic splendor of Paris. Soon after, Willy convinces Colette to ghostwrite for him. She pens a semi-autobiographical novel about a witty and brazen country girl named Claudine. Sparking a bestseller and a cultural sensation. After its success. Colette and Willy become the talk of Paris and their adventures inspire additional Claudine novels. Colette's fight over creative ownership. And gender roles drives her to overcome societal constraint. Revolutionizing literature, fashion and sexual expression.
In theaters Sep 21, 2018 USA
---
The Divine Order
Directed by Petra Biondina Volpe ( Swiss)
It is perhaps no accident that the heroine. Of this story of women's liberation in early 1970's Switzerland is named Nora. The legendary proto-feminist heroine of Ibsen's 19th-century drama walked out of her doll's house. About 100 years before the Nora of this movie walks out on her husband. Two sons, and borderline abusive father in law.
The Nora of this film, written and directed by Petra Volpe. Doesn't seem likely to leave forever. Despite the elevation of consciousness that takes place throughout this movie. Her bond to her husband Hans and her two kids is strong. The most pleasurable part of watching this Nora's story is seeing. How the males in her life have to make room for her, and do some learning themselves.
---
'The Flight' ('Urojahaj')
Directed by Buddhadev Dasgupta (India)
A village mechanic dreams of flying. After discovering the crash site of a World War II Japanese plane. Bachchu Mondal decides to rebuild it. His project doesn't go. Unnoticed by the ghosts that haunt the place. All victims of broken dreams. Authorities begin their investigation of Mondal. As a life threatening series of bizarre events conspire.
---
Breaking the Limits
Directed by Lukasz Palkowski (Poland)
The fascinating, true-life story of endurance athlete Jerzy Gorski.  In 1990 in the World Triathlon Championships Double Ironman competition. He finished with a time of 24:47:46, setting a world record.  His story is full of incredible ups and downs. Tremendous effort, and unbelievable strength.  His achievements would not have been possible without two women in his life.  One woman he lost.  The other woman inspired him to fight for his life.  Extraordinary story of a man who found himself on a verge. Of self-annihilation only to overcome his addictions. And succeed in the most unbelievable way.
---
Lots of Kids, a Monkey and a Castle
Directed by Gustavo Salmerón (Spain)
"There's something a little bit magic about Julita. Something of the fairytale" (Variety). Matriarch Julita's three childhood wishes have been granted. Lots of kids, a monkey, and a castle. But after the financial crisis hits Spain. The family loses their castle but not their sense of humour and family unity. And through the wealth of hoarded objects she has accumulated over 81 years. A rich family portrait is revealed.
---
Witkin & Witkin
Directed by Trisha Ziff (England)
The world is full of things we can't see. Even if they occur right in front of our eyes. With his surreal. Often grotesque, sometimes unsettling. Staged photographs, Joel-Peter Witkin creates a visual language for them. The world is also full of things we deliberately choose not to see. The socio-politically engaged figurative painter Jerome Witkin urges us with historically charged pictures to look at them.
---
Jaar, Lament of the Images (Chile)
Directed by Paula Rodríguez Sickert
Jaar, Lament of the Images is a documentary that focuses on the creative process of Chilean Alfredo Jaar. .One of the world's most important contemporary artists. His works reflect important current issues. Such as immigration at the US-Mexico border. The genocide in Rwanda, and the coup in Chile. Believing that art is the last bastion of liberty in society. He presents his art as a symbol of resistance. This first film focuses on this invested artist. And proposes an exploration of his works influenced by the history of Latin America. All while following his exhibits in Finland. Buenos Aires. Venice, and New York. The soundtrack is composed by Alfredo's son. Nicolas Jaar, one of the most influential artists in the world of electronic music.
---
Festival films : DOKUARTS 2018
Dokuarts Zeughauskin – Oct 4/21, 2018 Berlin (German)
The international exhibition of cinematic work presents. 24 new documentary films from 16 different countries. 12 of the films are contributed by female filmmakers.
All films are shown in Berlin for the first time. Most of them as German premiere. Nearly all filmmakers will be present to introduce their work.
DOKUARTS – Unter den Linden 2, 10117 Berlin, German
---
Shut Up and Play the Piano
Documentary about the composer, Canadian Chilly Gonzales (2018)
Directed by Philip Jedicke
Piano virtuoso, serial collaborator and self-declared genius. Jason Beck is a singular figure on the music scene. Fully immersed in his outsized alter ego of Chilly Gonzales. This Canadian cult star blurs the lines between rapper and classical composer. Performance artist and punk provocateur. He also has strong Berlin connections. Making German first-time director Philipp Jedicke's documentary portrait. Shut Up and Play the Piano a natural choice for a Berlinale world premiere.
---
Contemporary art and video fair "CAMERA CAMERA"
Video Festival : Itinerary In Town In Hotel – Nov16/25, 2018 Nice (France)
In 2018, the OVNi Festival will take place across the city of Nice. Under the mentoring of Jean-Jacques Aillagon. While its contemporary-art fair Camera Camera. Will take place in the rooms of the Windsor Hotel. Conceived as a project of 'artistic hospitality'. The OVNi Festival federates local actors. And invites French and international art structures to exhibit video-art works in hotels. Cultural spaces, and other unique venues. At the Windsor Hotel, the exhibiting galleries. Offer a show in the form of a walk through the rooms. In search of videos and fine-art works.
---
Boom For Real – The new Basquiat documentary, Dec 2018.
Directed by Sara Driver (US)
Following the documentary Jean-Michel Basquiat. The Radiant Child by the artist's personal friend, Tamra Davis. One could mistakenly think they knew everything there was to know about Basquiat. The film unveiled intimate confessions. Went through the daily life of Basquiat as an underground artist. And got closer than ever to dispelling the mythical aura surrounding the painter. Divulging his joys, doubts and dreams. However. This winter, Sara Driver is taking another approach to the artist's life. Boom For Real:.The Late Teenage Years of Jean-Michel Basquiatrecounts the painter's youth.
Born in Brooklyn on December 22, 1960. Jean-Michel Basquiat was a precocious child. He knew how to read and write by four. And he had already cultivated an interest in art thanks to regular visits to MoMA with his mother. It was his mother, too, who gifted him the book that changed everything. Henry Gray's Anatomy of the Human Body, after a terrible accident ended in a trip to the hospital at seven. The scientific gaze helped him cultivate his signature artistic style later on. From his troubled childhood. Between delinquency and life on the street. The documentary showcases the birth of a free. Revolutionary artist, who reigned over the underground art scene. In an understated and unspoken way, all the time remaining as potent. And powerful as his brush would allow him to.
In theatres December 19, 2018
---
Al Pacino performs at the Théâtre de Paris
Théâtre de Paris on 22 and 23 October, 2018. Paris (France)
Notice to fans of the unforgettable performer of Tony Montana. While giving an interview to Le Figaro this Sunday, September 2. Al Pacino announced that he will play on the stage of the Theater of Paris time for two unique performances in October. And the show will have nothing ordinary. "It's improvisation.Some things are planned, from time to time. But often I decide on the moment because the environment changes everything" . The theme ? He will talk about his career and will not hesitate to talk to the public. Unfortunately for the non-bilingual. The show will be interpreted exclusively in English. During the interview, Al Pacino also confided his enthusiasm when Richard Caillat. The producer and co-director of the Théâtre de Paris. Invited him to perform on stage. The box office will open on September 11th for only 48 hours.
Théâtre de Paris – 15 Rue Blanche, 75009 Paris
---
Rachel Maclean
Zabludowicz Collection – Sept 20 / Dec 16, 2018 London (England)
Three films by Scottish artist Rachel Maclean. The first is a brand new VR work that takes the viewer inside a dystopian version of Britain. Where tourist merch has reached epic proportions (imagine your average down-at-heal seaside shop, then multiply by 1000). The second is 'Spite your Face' a film that remixed the fairytale of Pinocchio to explore the very un-fairytale story of Brexit. And the third is 'Make Me Up'. Created to mark 100 years of women having the vote in UK. And inspired by Mary Richardson's famous slashing of Velazquez's nude painting 'The Rokeby Venus'.
Zabludowicz Collection –  176 Prince of Wales Rd, Belsize Park, London
---
Searching (2018)
Directed by 
Aneesh Chaganty
After David Kim (John Cho)'s 16-year-old daughter goes missing. A local investigation is opened and a detective is assigned to the case. But 37 hours later and without a single lead. David decides to search the one place no one has looked yet. Where all secrets are kept today. His daughter's laptop. In a hyper-modern thriller. Told via the technology devices we use every day to communicate. David must trace his daughter's digital footprints before she disappears forever.
---
Sicilian Ghost Story (2018)
Directed by Fabio Grassadonia, Antonio Piazza (Italian)
Set in a small Sicilian town that's cradled in a picturesque. Rocky valley and fringed by a shadowy forest, there is a sense that Fabio Grassadonia and Antonio Piazza's film takes place on the very fringe of the 'real' world. Where there is still some fairytale magic. Both beautiful and deadly. It's a feeling encouraged by the directors' languorous. Almost bleary visual style. Their deft use of natural imagery. And a story viewed through the prism of a fiercely imaginative teenage girl. Who, rather noticeably, likes to wear red.
---
BlacKkKlansman (2018)
Directed by Spike Lee
If you've been pining for the return of the fiery. Political Spike Lee of Do the Right Thingand Malcolm X, good news. BlacKkKlansman is the director working at his electrifying best. Maybe the optimism of the Obama era robbed him of some of that righteous fury (which would be one explanation for his limp Oldboy remake). Or maybe middle age mellowed him; either way. Trump's America—Charlottesville. Black Lives Matter and everything else—has brought the old mojo flooding back. Veering from a blaxploitation spoof to an undercover thriller. And ending with a no-punches-pulled real-life coda. BlacKkKlansman is riotously fun one minute. Savagely biting the next.
---
"The Kiss" (1896)
Directed by William Heise
The first kiss seen at the cinema.
At just 18 seconds long. "The Kiss" (sometimes known as "The May Irwin Kiss") is one of the earliest films to be shown to the public. Directed by William Heise for Thomas Edison. It recreates a kiss from a popular musical of the time, The Widow Jones.
The sex scene
To be honest. It's barely a kiss; there's definitely no tongues or bodily fluids exchanged as actor John Rice tweezes his moustache in preparation before he goes in for what is more of a peck.
Why is it so groundbreaking?
Officially the first ever film to feature two people kissing. It caused an uproar, with one commentator writing that it was "beastly enough in life size on the stage. But magnified to gargantuan proportions and repeated three times over, it is absolutely disgusting."
---
More (Full version)
Directed by  Barbet Schroeder 1969
Stefan (Klaus Grünberg) is a German student from Lübeck, who has finished his mathematics studies and decides to have an adventure to discard his personal commitments. After hitch-hiking to Paris, he makes friends with Charlie (Michel Chanderli) while playing cards in a Latin Quarter, and they decide to commit a burglary to get some money. At a swinging Left Bank party, Stefan meets a free-spirited-beautiful but elusive American girl called Estelle (Mimsy Farmer) and follows her to Ibiza. The two become lovers, with an atmosphere of easy sex, nude sunbathing and lots of drugs.
He discovers Estelle is involved with former Nazi German man called Dr. Wolf (Heinz Engelmann). Borrowing a villa from a hippie, Stefan saves Estelle from Dr. Wolf only to find she does not really want to be saved, and she introduces him to heroin (referred to by the old street name, "horse"), which she has stolen from Dr. Wolf. Stefan is initially against Estelle using heroin, but having used it previously, she persuades him to try it. Soon Stefan and Estelle are both heavily addicted to heroin. They try to break the addiction using LSD and initially manage to stay clean.
However, after a while, they are both using heroin again. Unable to break free of the addiction, it quickly spirals out of control, leading to a tragic end for Stefan.

---
J'aime (I love)
Experimental Film – Directed by Alain Lame (French)
The painter in the cinema is a fictional character emblematic of the figure of the artist. The creative genius renews the heroic figure of the adventurer. Solitary cowboy in a cultivated and urban universe (Paris or New York). It plays on the contradiction between individual freedom and the forms of social organization (family, recognition, exhibition, etc.).
Alain Lame shows us in his experimental film the art market. It refers to all transactions on works of art and works of art. Also, we will see the different actors of the art trade that are the artists. Merchants and antique dealers. Gallery or brokers. Collectors and amateurs.
Finally, we watch an organized bulimia !
---
Human Flow
Directed  by Ai WeiWei – Pekin (China)
Over 65 million people around the world have been forced from their homes to escape famine, climate change and war in the greatest human displacement since World War II. Human Flow, an epic film journey led by the internationally renowned artist Ai Weiwei, gives a powerful visual expression to this massive human migration. The documentary elucidates both the staggering scale of the refugee crisis and its profoundly personal human impact.
Captured over the course of an eventful year in 23 countries, the film follows a chain of urgent human stories that stretches across the globe in countries including Afghanistan, Bangladesh, France, Greece, Germany, Iraq, Israel, Italy, Kenya, Mexico, and Turkey. Human Flow is a witness to its subjects and their desperate search for safety, shelter and justice: from teeming refugee camps to perilous ocean crossings to barbed-wire borders; from dislocation and disillusionment to courage, endurance and adaptation; from the haunting lure of lives left behind to the unknown potential of the future.
Human.
Human Flow comes at a crucial time when tolerance, compassion and trust are needed more than ever. This visceral work of cinema is a testament to the unassailable human spirit and poses one of the questions that will define this century: Will our global society emerge from fear, isolation, and self-interest and choose a path of openness, freedom, and respect for humanity?
Amazon Studios and Participant Media present, in association with AC Films, Human Flow, a film directed by Ai Weiwei. Human Flow is produced by Ai Weiwei, Chin-Chin Yap and Heino Deckert and executive produced by Andrew Cohen of AC Films with Jeff Skoll and Diane Weyermann of Participant Media.
---
Bachir in Wonderland (Short Film 16′)
Directed by 
Els Duran, Evelien Vehof –  2018, Netherlands
The children's documentary 'Bachir in Wonderland' documents a few extraordinary weeks in the life of the stateless Saharan boy Bachir. This past summer, Bachir got the unique opportunity to go to summer camp in Spain, replacing his tent in a refugee camp in the middle of the Algerian Dessert by the apartment of a Spanish host family in Barcelona. With the presence of Bachir and the documentary directors.
---
Mary Page Marlowe
By Tracy Letts. Directed by Lila Neugebauer.
2NSTAGE Theater –  18/31 July, New-York (Us)
Tracy Letts's fascinating Mary Page Marlowe presents a portrait of its title character in the form of a jigsaw puzzle. The play's 11 scenes, each about eight minutes long, span nearly 70 years in the life of a Midwestern baby boomer, but they are presented out of chronological order; each new piece connects to others and fills in gaps until a larger picture emerges. But the play resists its own tendency toward neatness through a central conceit: Mary Page, at various ages, is embodied by six different actors (and one prop baby), a powerfully literal rebuke to the idea of a stable self. "I'm not the person I am," Mary Page tells a psychotherapist—and she's certainly, obviously, not who she used to be.
Orphan Black's
Orphan Black's Tatiana Maslany plays Mary Page in her twenties and thirties; we hear her dissect her joyless extramarital affairs in therapy and then watch her, later/earlier, engage in a hotel-room tryst. Susan Pourfar takes the reins for Mary Page's forties, when she labors to raise kids, and Kellie Overbey plays her at 50, when she crashes into reality; Blair Brown takes over for the final decade of Mary Page's life, when she has softened a bit with age and resignation. All four are excellent, as is most of the rest of the cast—18 actors in all, many appearing in only a single scene apiece.
While the play's wide scope keeps the audience at a bird's-eye remove, its components are vivid close-up snapshots. Director Lila Neugebauer keeps Mary Page in hard, revealing focus even as the character sometimes smudges herself in denial or passivity. (Substance abuse is a recurring issue: a need to be out of control.) Mary Page Marlowe combines moments of crisis into a longer view of time. It approaches life—this one life—with something that feels like wisdom.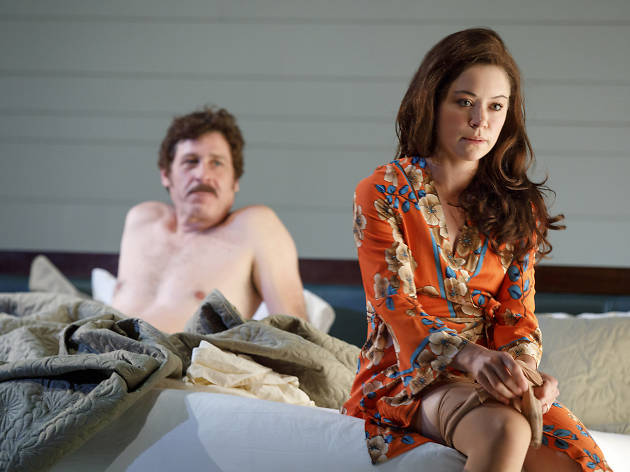 Website : https://2st.com/
---
Zoé
Directed by Drake Doremus – July 2018 (US)
In a time of haute technology and post-Black Mirror consciousness, what better time than now for a movie like Zoe to be made? Léa Seydoux and Ewan McGregor star in this romantic sci-fi where synthetic humans are normal in society and compatibility robots can discern whether two people are a perfect match. Although many movies have exhausted the tropes of the role of technology in relationships, Zoe seems to delve further into the idea, specifically with artificial intelligence's potential to reduce loneliness.
---
Call me by your name
Directed by Luca Guadagnino, Italy
'Call Me by Your Name', Winner of the Oscar for Best Adapted Screenplay, has delighted audiences at such festivals as Toronto, Sundance and the Berlinale. Elio spends every summer with his parents at their villa in the northern Italian countryside, where he enjoys the sun, reading, peace and quiet and the company of his friends. The summer that Elio turns 17, he meets Oliver, a handsome doctoral student working as an intern for his father.
---
Mamma Mia
Directed by Ol Parker – July 2018 (US)
What's better than a Mamma Mia sequel? A Mamma Mia sequel featuring Cher, of course. Although the 72-year-old is somehow playing the mother of the 69-year-old Meryl Streep, it's her first on-screen role in eight years, and what a way to return. Mamma Mia: Here We Go Again! finds Sophie 10 years later, now pregnant and wondering how her mother felt when she was in the same position. Cue the flashback – we see how a young Donna got herself into a sticky situation with Bill, Sam and Harry. With ABBA songs old and new, a sparkling cast list and an all-singing, all-dancing extravaganza planned if the trailer is anything to go by, it looks like it'll be the perfect summer movie to go and see with friends.
---
WALK WITH ME
Max Pugh and Marc J. Francis (French/Britich)
Heartfelt, if not entirely satisfying, Walk With Meprovides an up-close glimpse of the life of devotion, focusing on the monks and nuns who live at a rural monastery led by Zen Buddhist master Thich Nhat Hanh.
Credited with introducing the practice of mindfulness to the West, the 90-year-old has been limited in his activities as the result of a recent stroke, but for a long time he appeared regularly on the lecture circuit, and many Americans (including this one) have heard him speak and been guided through meditations by him. To convey the powerful calm of his presence would be a tall order for any film. The documentary by Max Pugh and Marc J. Francis certainly has its potent moments. But its mix of the contemplative and the observational finally proves more illustrative than immersive.

---
The 100th anniversary of Bergman's birth
Ingmar Bergman (Swedish)
The Swedish Museum of Performing Arts  – 14th (Stockholm)
The Royal Dramatic Theater – July 14th (Stockholm)
The Year of Bergman is being celebrated across the globe, with July 14th – the 100th anniversary of Bergman's birth – featuring many special events and offerings. The Ingmar Bergman Foundation and the Swedish Film Institute are planning Bergman film screenings at cinemas across Sweden on July 14th. Meanwhile in Stockholm, the Royal Dramatic Theatre, the Swedish Museum of Performing Arts. SF Cinemas and the Stockholm City Museum are working alongside the Ingmar Bergman Foundation to celebrate what would have been Bergman's 100th birthday. The Royal Dramatic Theatre offers Stockholmers and visiting Bergman enthusiasts alike an exclusive birthday tour, trailing in the footsteps of the great director, with guides offering both Swedish and English. The Swedish Museum of Performing Arts opens its doors to all, with free entrance throughout the day and the special Bergman – Truth and Lies exhibition, while the Stockholm City Museum arranges a city tour entitled Ingmar Bergman's Stockholm.
Pictures of the movie Persona.

The Swedish Museum of Performing Arts – Sibyllegatan 2, 114 51 Stockholm, Suède
The royal dramatic theatre – Nybroplan, 111 47 Stockholm, Suède
---
35 DAYS OF FILM
Mitchell-Innes & Nash Gallery – JULY 9 – AUGUST 22, 2018
Mitchell-Innes & Nash is pleased to present 35 days of film, a group video screening of films dating from 1965 to 2018 presented in linear format on a single screen at the gallery's Chelsea location this summer from July 9th to August 22nd.
The exhibition features a selection of films by a dozen artists whose respective work, while disparate in tone and subject matter, all highlight the aesthetic and political significance of film as a means of communication. Against the backdrop of today's cultural environment where social media plays a dominant role in both disseminating and arbitrating public discourse on art and politics, these films call for a re-examination of the screen as the stage upon which reality can be reflected and changed.
The exhibition includes films by Monica Bonvicini, GCC, General Idea, Mary Kelly, Christopher Miner, Pat O'Neill, Hardeep Pandhal, Pope.L, Martha Rosler and Jacolby Satterwhite.
Mitchell-Innes & Nash – 534 W 26th St, New York, NY 10001, États-Unis
---
Video Art Miden / From zero to infinity!
Festival Art Video 05/06:07 July –  Kalamata (Greece)
Video Art Miden is expanding and broadening, and is ready to present a rich program of international video art in Kalamata (Greece) -more specifically at the Historic Center and the beach of the city. Celebrating the strong relationship of the organization with the city in which it started and initially developed, the curatorial team comes back with public projections of contemporary video art from all around the world, from July 5 to July 7, each day activating a different urban area of the city.
Video Art Miden is counting 14 years of continuous artistic & curatorial activity, gathering the most interesting works of Greek and international video art and finding new ways and new venues for projection and promotion of this specific form of art, in Greece and abroad. During this year's summer events in Kalamata, the audience will have the opportunity to watch more than 170 video works, selected from the recent call for entries addressed by Miden to video artists internationally.
Video Art Miden :  Kalamata (Greece)
---
Woman Walks Ahead
Director by  
Susanna White 2018 (USA)
Based on true events, WOMAN WALKS AHEAD tells the story of Catherine Weldon (Jessica Chastain). A widowed artist from New York who, in the 1880s, traveled alone to North Dakota to paint a portrait of Chief Sitting Bull (Michael Greyeyes). Her arrival at Standing Rock is welcomed with open hostility by a US Army officer (Sam Rockwell). Who has stationed troops around the Lakota reservation to undermine Native American claims to the land. As Catherine and Sitting Bull grow closer, and as their friendship-and his life-are threatened by imperious government forces. Catherine must contend with the violence that underlies her position.
---
Review: In 'Araby,' the Story of a Wandering Laborer
 Directed by João Dumans, Affonso Uchoa 2017 Brazil
Araby begins by observing the day-to-day of Andre, a teenager who lives in an industrial area in the Brazilian state of Minas Gerais. After a local factory worker, Cristiano, has an accident on the job, he leaves behind a handwritten journal, which the boy proceeds to read with relish. The film shifts into road-movie mode to recount the story of Cristiano, an ex-con and eternal optimist who journeys across Brazil in search of work, enduring no shortage of economic hardship but gaining an equal amount of self-knowledge. Invigorating and ever surprising, Araby is a humanist work of remarkable poise and maturity.
---
Apocalyptic, unfathomable essay film from the legendary Jean-Luc Godard. (French)
Jean-Luc Godard presents himself as a one-man YouTube in The Image Book (Le Livre d'Image, also known as The Picture Book). The old dog of the New Wave is as provocative, and impenetrable, as ever in a documentary essay / installation piece shaped around a blizzard of images culled from artworks, news footage and a vast sampling of classic films. From Hitchcock's Vertigo to Pasolini's Salò via Joan Crawford in Johnny Guitar.
The film is broken into chapters, with recurring images of hands and trains. There are voices on the soundtrack, including Godard's. Writing on the screen and words that are mostly translated into English, but sometimes not. Watching the film is like trying to tune a radio. That stubbornly refuses to stay on the same wavelength.
Buster Keaton
Godard, now 87, certainly seems to be in apocalyptic mood as he focuses heavily on images of violence and suffering. Humans have an innate capacity for cruelty and self-destruction. Consuming the finite resources of a planet that we seem to conveniently forget that we share with other species. The recurring scenes of trains. Including, of course, Buster Keaton in The General – must, one assumes. Speak to the Holocaust, when railway tracks marked the road to hell.
Later in the film, Godard turns his attention to the Middle East in a chapter headed 'Joyful Arabia'. The title of a work by Alexandre Dumas. He chastises the West for having no real interest in the people or the culture. The promise of prosperity from a foreign land lies at the heart of all colonialism.
There are themes and concerns that can be teased out from this largely unfathomable film. But it is always challenging. Maybe it is something that needs to be experienced and absorbed. Rather than dissected and understood. If it is to be Godard's last feature then there seems something appropriate in his conclusion that 'there needs to be a revolution.'
---
'Three Faces' Film Review: Once Again, Jafar Panahi Is Modest But Profound
Cannes 2018: The Iranian director is officially forbidden from making films for 20 years, but "Three Faces". Is the latest exceptional work he's made in the face of that ban.
For the past few years, Iranian director Jafar Panahi has been sending a series of quietly confounding films to festivals that he's not allowed to attend. "Three Faces," which premiered this weekend at the Cannes Film Festival. Is the latest of these little examples of his cinematic sleight-of-hand, and another Panahi gem that has more on its mind than it lets on.
"Three Faces" is typical of the canny director's output in the way it's modest but profound. Leisurely but urgent, a portrait of a country disguised as a meandering road movie.
But it's not like he's using misdirection or only pretending to be modest and leisurely. Panahi's films are all those things at once. And this one is particularly timely at this year's Cannes. In the way he manages, without openly criticizing his home country. To sketch a portrait of how the refusal to give women much agency in their lives is ingrained in the society.
---
Festival of Cannes. Movies. The 2018 Official Sélection.
Wim Wenders: 'Pope speaks directly to viewer in new film'
Wim Wenders, writer and director of the new film "Pope Francis – A Man of His Word", in an exclusive interview with Vatican News, says the movie allows the Holy Father "to speak directly about all his concerns and all the issues that matter to him."
As the Holy Father celebrates 5 years of his Papacy, we're going to preview the trailer of your new film: "Pope Francis – A Man of His Word". What does this film mean to you? How did the film come to be, and what do you expect?
WW: Not in my wildest dreams would I have expected to make a film about Pope Francis. When I got the letter with an invitation to come to the Vatican and discuss with Don Dario Viganó the possibility of a film about the Pope. I first took a deep breath, and then I walked around the block. It seemed that such a project would represent a huge responsibility, at least it would be a whole different kind of task than any film I had made before. But of course I would go and find out what Don Dario had in mind.
READ ALSO
Pope Francis – A Man of His Word
13/03/2018
It turned out that he offered me Carte Blanche, let me write a concept and define myself the film I could imagine. And the Vatican would not interfere, and would open its archive for us. I said yes. Of course.
It needed a while for my concept to take shape, for the financing to fall into place and for the first shoot with Pope Francis to be organized. From that first interview to the finished film it took almost 2 years, 3 more long interview sessions and a shoot in Assisi. The home town of Saint Francis. And months and months in the editing room, until the film had taken its final shape. And it fulfilled the high hopes I had for it: that it would allow Pope Francis to speak directly to every viewer and listener. Almost face to face, about all his concerns and all the issues that matter to him. 
The Pope was involved in the shooting… Did anything happen on the film set that has particularly impressed you?
WW: Oh yes! I was very impressed how open Pope Francis was to each question, and how directly and spontaneously he answered. And after each of our four long sessions. He took time to shake everybody's hands, and did not make any difference between producer or director or electrician or assistant.
Movies
You once said the Pope "is a true example of a man who lives what he preaches". What well-wishes do you have for him today?
WW: I had the highest regard for Pope Francis before. I ever met him, just from seeing him on television and from reading his sermons. Or his encyclicals. But meeting him eye to eye. Then also seeing and hearing him every day. In the editing room. Not only in our own interviews. But also his many talks all over the world, to refugees. Prisoners. Scientists, children, rich or poor or regular people. Made me realize how courageous he was. How fearless. And finally, that would be my wish: that he never loses that relentless courage.
Whenever he left our set, the last thing he said was. "Pray for me!". And that wasn't just his way of saying good-bye. He meant it. And I've heard him ask the same from people all over the world.  From all these people (including my little film crew). Finally, for whom he represents a man whose word we can trust in. That has become such a rare and precious thing today. A man who is not acting for himself, but for the common good.
---
PARVIZ KIMIAVI: THE MONGOLS
TATE MODERN : DATE & TIME 19 June 2018 at 19.00–21.30 
An outstanding 'collage' of past. Present and future Kimiavi's iconoclastic masterpiece. The Mongols is a reflection on modernity and cultural imperialism in 1970s Iran. The self-reflective film creates a critical reflection on the expanding presence of TV screens and antennas in Iran's. Poor villages with a re-enactment of the Mongols 13th century invasion. Its innovation and self-reflection led the French critic Henri Chapier to label Kimiavi 'Le Godard Iranian.'
Parviz Kimiavi The Mongols / Moqolhâ, Iran 1973, black and white / colour, 85 min
---
Woodend Winter Arts Festival Movies.
8 – 11 Jun 2018  Melbourn
The 14th annual Woodend Winter Arts Festival Cinema brings together Australian and international artists, performers. Authors and commentators for the Macedon Ranges' premier arts festival.
Events this year include four performances of La Pellegrina: A Medici Extravaganza in its first professional performance in Australia. Davide Monti, Pietro Roffi. Joseph Tawa dros, Melbourne Ensemble, Jacqueline Ogeil, Ensemble Gombert and Accademia Arcadia. See the beloved Max Gillies in two special performances.
Words and Ideas events include panels with Don Watson and Craig Emerson. Interviews and discussions with authors Alex Millar, Graeme Samson. Anne Buist. Susi Fox. Dee White. Kirsty Manning. Ann James and others. Slam poet specialist Emilie Zoey Baker (EZB). Will run a poetry writing workshop and a poetry at the pub session.
Free events for adults and children include four spectacular exhibitions. Also, different local and regional artists. . A fantastic way to support local community organisations.
All this just one hour from Melbourne in the beautiful Macedon Ranges.
Various venues, Woodend, Victoria, 3442 – Australie