Arts & Culture Platform section: Concert Music. All musicians.
The will of the HappenArt team is to offer you its best selections of concerts and events that will interest you.
Concert Music, musicians, submission your work ⇒
---
Gil Scott Heron: The revolution will Not Be Televised 
The Revolution Will Not Be Televised is a poem by Gil Scott-Heron then set to music by its author. Both the piece and the author have become a reference in terms of vocal art and political consciousness.
The poem is an "aggressive polemic against the mass media and against white America's ignorance of the progressive deterioration of living conditions in the cities"1.
Gil Scott-Heron's proto-rap vocal style influenced an entire generation of artists. This is why he is considered the precursor of the phrasing that will become the characteristic of hip hop and then rap2.
The clip.
Musically, Gil Scott-Heron created the formula that hip-hop and rap would follow: very stripped-down modern jazz arrangements with a very short, very repetitive melody given by a bass guitar over rhythms pounded by a drum.
---
U2 & Luciano Pavarotti: Miss Sarajevo
Miss Sarajevo is a song by the Irish group U2 and produced by Brian Eno, it is also the only single taken from the album Original Soundtracks 1 of the same group, released in 1995. Luciano Pavarotti, invited by the group, performs a very beautiful performance of his tenor voice.
The song was certified silver in the United Kingdom with over 200,000 copies sold1.
The music video was directed by Maurice Linnane and is a montage taken from three different sources: the beauty pageant that is described in the song, the song performed live at the Pavarotti and Friends concert in Modena, and urban views of ravaged Sarajevo by war.
The beauty contest described, to which the song owes its title, is the election of Miss Sarajevo under siege, organized in the midst of bombing. The winner of this competition, Inela Nogic, would later be invited on stage by the group during their concert in Sarajevo in 1997.
---
Irina Tiviane
Soprano
Born in St. Petersburg, Russia, Irina Tiviane began studying the piano at the age of five.
She then studied singing and conducting at the Rimsky-Korsakov Superior Conservatory. His masters are V.Moukovnikov and N.Okhotnikov, soloists of the Marinsky Opera.
At La Sacla in Milan, she then perfected two years with Maria Luisa Cioni and Roberto Negri.
"L'Annonce fait à Marie".
With perfect pitch and great vocal range, she was chosen by the Belgian composer P. Boesmans for his creation of "L'Annonce fait à Marie" from Claudel's text, with Atelier Lyrique de l 'Opéra du Rhin (Colmar, Mulhouse) and the Athénée Theater (Paris).
"Le lit de l'Etrangère".
She also collaborates with the Palestinian composer P. Lama, performing his cantata "Le lit de l'Etrangère" and extracts from his opera "Kanaan" as part of the Canadian festivals "Pro Arte" in Quebec and "Mélodines" in Montreal. (Place des Arts).
International festivals.
As a concert performer, she is regularly invited to numerous international festivals.
Recently, we could hear Irina Tiviane in the role of Eboli in "Don Carlo" by Verdi in Domodossola (Italy), in that of Abigaille in "Nabucco" for a tour in France and, as guest soloist, at the opening of the 10th edition of the International Cultural Festival of Symphonic Music at the new Opera of Algiers.
---
MISERABLE –  DAMNED TO LOVE YOU 
Kristina Esfandiari is a singer-songwriter & producer who writes music and performs under the monikers Dalmatian, Miserable. And with the bands King Woman and Sugar High.
---
Electronics: from Kraftwerk to the Chemical Brothers
The design Museum – Until Fev 14, 2021 London (UK)
What to expect:
Evoking the experience of being in a club. The exhibition will transport you through the people. Art, design. The technology and photography that shaped the electronic music landscape.
Celebrate 50 years of the legendary Kraftwerk band with their 3D show. Enter the visual world of The Chemical Brothers for one of their legendary live shows. As visuals and lights interact to create a new three-dimensional experience by Smith & Lyall.
Travel the dance floors from Detroit to Chicago, Paris, Berlin, and the thriving UK scene. Featuring over 400 items and the likes of Detroit techno legends Kevin Saunderson? Juan Atkins. Jeff Mills and Richie Hawtin, "Godfather of House Music" Frankie Knuckles. Haçienda designer Ben Kelly and the extreme visual world created by Weirdcore for Aphex Twin's 'Collapse'. 
Visual installation.
Discover the early pioneers Daphne Oram and the seminal BBC Radiophonic Workshop. Indulge your senses with large-scale footage of Andreas Gursky's rave culture. Iconic and fashionable DJ masks. An original soundtrack by French DJ and producer Laurent Garnier. A sound and reactive visual installation created especially for the exhibition by 1024 architecture. Graphics by Peter Saville CBE, historic labels and club nights.
Advice age 12+
Visuals and music may contain content that is not suitable for children. The exhibit includes intense audiovisual experiences and strobe lighting. Parental discretion is advised.
---
THE PINK FLOYD EXHIBITION
IFEMA – Feria de Madrid – Until Sept 15, 2019 Madrid (Spain)
Immerse yourself in the psychedelic universe. 0f one of the most iconic bands in music history. Pink Floyd. 'The Pink Floyd Exhibition' is an audiovisual journey through 50 years of the group's music. Art and design. See more than 350 pieces. Some previously unseen. Including David Gilmour's Fender Telecaster Custom guitar. Which he played when the band recorded 'Animals'. You'll also see reconstructions of legendary set designs. From the band that gave us unforgettable albums like. 'The Dark Side of the Moon'. 'Wish You Were Here'. And 'The Wall' and 'The Division Bell'.
IFEMA → Ferial Juan Carlos I. AV Partenón, Nº 5, 28042 Madrid, (Spain)
---
Joan Baez
Beacon Theater – May 1, 2019 New-York (Usa)
Joan Baez, legendary artist. Militant and inducted into the R & R Hall of Fame in 2017. Also extended her sold-out tour in 2018, until 2019. Along with the release of Whistle Down The Wind, her first studio album for ten years. Already announced as one of the best.
Baez said, "Although this is my last long official tour. I'm looking forward to touring with a great album that I'm really proud of. I am happy to be able to share this new music. And the long-time favorites with my audience around the world. "
Beacon Theater – 2124 Broadway New York  10023
4 July , 2019 – Gent Jazz Festival Ghent, BELGIUM
6 July , 2019 – Insel Grafenwerth Bad Honnef, GERMANY
19 July , 2019 – Flower Festival Turin, ITALY
21 July, 2019 – Theatre Antique Vienne, FRANCE
28 July, 2019 – Teatro Real – Universal Music Festival Madrid, SPAIN
---
Shannon Shaw and Neko Case 
Vic Theatre – April 26/27, 2019 Chicago (USA)
In the decades that followed the recording of his first solo EP. In the kitchen of his Chicago apartment. Neko Case has established itself as a great country and a rock troubadour (and an integral part of the great Canadian independent rock band The New Pornographers). In coproduction with Björn Yttling by Peter Bjorn and John, Hell-On.
Shannon Shaw.
The last album from Case, plays with all his strength. In addition, filled with folk-rock ballads that showcase the powerful voice of Case. Also, his sense of humor reliable and dark. During the two evenings at the Case. Concurrently, Case supports Shannon Shaw of Shannon and the Clams.
Vic Theatre – 3145 N Sheffield Ave Chicago, USA
---
Coachella Festival 2019
April 12/14 & 19/21, 2019, Los Angeles, (USA)
Coachella is a gigantic eclectic festival. Also, it takes place in California, in Indio. One of the best festivals in the world. In addition, it is undoubtedly the list of all music lovers and festivals!
Year after year, the festival is armed with unparalleled programming. Crammed with the most popular and influential artists of the moment. Anderson.Paak & the Free Nationals. Lizzo. Rüfüs du sol. Nina Kraviz.  That they are part of the pop. Hip-hop. Rock. Eclectro or any other kind.
---
Lenny kravitz – New album 
"It's hard not to feel concerned about what's going on right now. Ten years ago, I could not have written this album. Our time is really dark, disturbed, anxiety. In 2018, people are still fighting each other, racism and misogyny still exist. "
---
Erik Satie Night – 8:30 Hours Concert at the Philharmonie
Philharmonie and the Cité de la Musique – Oct 06, 2018 Paris (France)
On the occasion of the 2018 Nuit Blanche, the Philharmonie and the Cité de la Musique host four extraordinary programs. Travel to America, Night with the Ghosts of Composers. Meeting with Erik Satie and tribute concert Studio Venezia!
Erik Satie Night in the Great Hall Pierre Boulez.
Accustomed to the philharmonic. Nicolas Horvath will perform the Complete Piano Works by Erik Satie, 8:30 concert. In 2016. He had already delivered an 11-hour concert at the Philharmonie in Paris. With the complete piano works of Philip Glass.
Philharmonie Cité de la Musique (Hall Pierre Boulez) – 221 Avenue Jean Jaurès, 75019 Paris (France)
---
BAM 2018 Electrònica experimental – Music festival
Spanning more than twenty years. Barcelona Acció Musical (BAM) has become a festival renowned. For discovering emerging talents from dance. Electronic, rock and pop music from Catalonia and from across the globe. More than 40 groups fill different stages. Across the city each year with unique. New and original sounds, always coinciding with La Mercè. The city's patron saint festival.
CCCB –  Carrer de Montalegre, 5, 08001 Barcelona, Spain
---
Robert Plant And The Sensational Space Shifters
Champions Park – Sept 22/Louisville, KY (USA)
We last heard from Led Zeppelin when the band put out a snazzy. Full-catalog reissue a couple years back. But don't get your hopes up for much else. In the way of reunion shows or releases. You can, however. fFnd leonine lead man Robert Plant on the road performing solo. Or alongside his current cross-cultural concern. The Sensational Space Shifters. Following 2017's sensuous new solo album, Carry Fire.
Champions Park → 2050 River Rd40206Louisville, KY, US
27 September – City Bank Auditorium, Lubbock, TX, US
29/30/01 September – Austin City Limits Live at The Moody Theater,  Austin, TX, US
26 October – The O2 Arena, London, ENGLAND
---
Gretchen Peters
La Chapelle des Lombards – Sept 11,  2018 Paris (France)
Over time, beauty is bittersweet. Concurrently, the changes it brings are as heartbreaking as comforting. In addition, the inevitable tension that stems from this influence is the most reliable muse of Gretchen Peters. "The years go by like days. Sometimes days go by like years. And I do not know which one I hate the most. " Also, she sings in "arguing with ghosts". After that, the opening, haunting and haunting, cuts his new album, Dancing with the Beast.
La Chapelle des Lombards –  19 Rue de Lappe, 75011 Paris
---
Ennio Morricone and Susanna Rigacci (Soprano)
Palais 12 – Nov 24, 2018 Brussels (Belgium)
The legendary Italian composer,with Soprano Susanna Rigacci.  Whose film scores include 'Once Upon a Time in the West'. 'The Untouchables' and 'The Good. The Bad and The Ugly'. Plays his last ever London Concert Music.
Palais 12 → Avenue de Miramar, Brussels Capital, 1020, Belgique
---
Festival de la India
Teatros del Canal – Setp 25, 2018 Madrid (Spain)
The Indian Festival in Concert aims to bring the public of Spain the talent. Creativity and cultural richness of India through music and dance. This festival celebrates its fifth edition in 2018. After the successful result of the four previous editions.
On this occasion he will have the Gundecha Brothers. The most active performers of Dhrupad (the oldest musical style of classical music in northern India). With Ambi Subramaniam Ensemble. The most important young classical violinist in India. And with Attakkalari Dance Company. Which will present Bhinna Vinyasa. "A universe of changing configurations or ensembles". Where the images of arts and literature are transformed with the memories of contemporary experiences lived.
Teatros del Canal → Calle de Cea Bermúdez, 1, 28003 Madrid, Spain
---
Pete Tong Ibiza Classics
The 02 Arena – Nov30, 2018 London (England)
Pete Tong is more than a piece of latter-day cockney rhyming slang. He's also a scene-shaping DJ. This winter, he's teaming up with the 60-piece Heritage Orchestra. To raise the O2's roof  with some big-room anthems. For all you ravers who only want to grow up a little bit.
The 02 Arena → Peninsula Square, London SE10 0DX, (England)
---
Michael Jackson: On the Wall review
National Portrait Gallery – Until October 21 2018 London
HIs every crotch grab sent jolts of ecstasy across the globe, his every spasmodic hip thrust left the world reeling. That's an inhuman level of power for one human to have. It ended up being too much for Michael Jackson, and maybe too much for the rest of us too, which may explain how the National Portrait Gallery can put together a whole show of art inspired by MJ and without it being mega-cheesy or ultra-dull. I had more reservations than an over-hyped London restaurant when it came to this exhibition Concert Music, but let it be publicly stated here: I was wrong.
Power of black America.
But don't come expecting biographical information, chronology, memorabilia or easy narratives. This is about artistic reactions to the king of pop, not chintzy nostalgia. The show treats MJ as the ultimate symbol of fame, obsession, talent and the power of black America. It begins with the MJ you expect. He's sat on a horse, clad in ludicrous armour, in an obscenely ostentatious Kehinde Wiley portrait. Showy, proud, showbiz. And then look at the starry-eyed adoration in Andy Warhol's manic documenting. But that's the façade.
Susan Smith-Pinelo's dancing cleavage, bouncing to 'Working Day and Night' across a series of screens, tells you infinitely more about the man. MJ made the world dance, and in the process opened floodgates of black sexuality and cultural pride. There are plenty of brilliant black artists here. Glenn Ligon paints MJ as a child as if it's a self-portrait, Isaac Julien uses his face in collages, Auppau Junior Boakye-Yiadom attaches helium balloons to a pair of shoes, leaving them eternally on their tiptoes. This is MJ as a statement of the power and legitimacy of black America, a revolution in pop and culture.
Beaudelaire.
But he also represents the absolute excesses of fame. Suddenly, MJ becomes twisted, troubled, fragmented. He's Jesus in David Lachapelle's photos, he's the capitalist antichrist of communism in Dan Mihaltianu's installation of masks, he's the modern Baudelaire in Lorraine O'Grady's photos. But he's a ghostly spectre too. Jordan Wolfson obscures everything but MJ's eyes in a glaring video, taken from the musician's statement against accusations of child molestation. The show takes a very dark turn, and Wolfson's piece is the most disturbing work here.
But maybe Candice Breitz's video installation of 16 Germans singing the entirety of 'Thriller' start to finish sums it up best. In their MJ outfits and out of tune, obsessive voices, these hilarious, passionate doofuses make you realise that MJ never really existed: he was an idea, a god, an idol to worship.
Not everything here is brilliant, but as a whole, this exhibition is an incredible example of using art to decode, uncover and reveal myriad concepts and ideas. This is a show about fame and obsession, about how desperately we seek idols and how remorselessly we consume them. It's also about how much impact one person can have on the world. That's the true power of Michael Jackson: the way he makes you feel.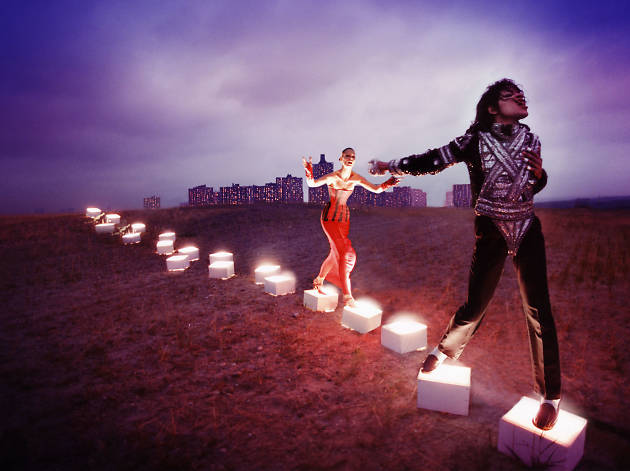 ---
Martha Argerich (Argentina)
Concert Performance on 07 July 2018 Colmar (France)
There are few artists in the world that become a legend while alive. Martha Argerich is one of those rare pianists to have raised her art to dazzling heights. The exemplary story begins in her native Argentina. Where from the age of two and a half years, her precocious talent for the piano is identified. When she comes to Europe to continue her musical education. She has already performed on stage at the Teatro Colón. She retains the excellence of her outstanding play, full of ardor and sensitivity. From a long tradition of musicians including the famous Nikita Magaloff (friend of Prokofiev), Friedrich Gulda or Arturo Benedetti Michelangeli.
Martha Argerich won the Geneva Competition at the age of 16 years and three prizes at the Chopin Competition in Warsaw. All mapped out, her great career will however be like no other. Fiercely free, she has a reputation to never sign a contract and admirers still have painful memories of the long years in which she moved away from the scene. The recitals became a challenge for the artist who suffered from too much solitude. After which she decided in 1980 to only play either when accompanied by an orchestra, or surrounded by her friends such as Nelson Freir., Misha Maisky or Gidon Kremer. The most incredible is that even today, even though the orchestral repertoire is less bountiful than before, the great pianist Martha Argerich has lost none of her skills or talent. Each Concert Music is a suspended moment, stolen from eternity.
Eglise ST. Matthieu – Colmar (France)
---
The Pretenders, Jack White, Neil Young and Robert Plant top the Arroyo Seco Weekend 2018 lineup – Los Angeles (Us)
Concert June 23 and 24
Arroyo Seco Weekend is back for another year at the Rose Bowl, and this time around the Concert Music festival has brought an even better lineup along with some logistical upgrades.
The second annual Arroyo Seco Weekend will set up three stages in the Rose Bowl-adjacent Brookside Park on June 23 and 24. Neil Young and Jack White headline Saturday of the two-day fest while Kings of Leon and Robert Plant top Sunday's lineup. The rest of the lineup includes the likes of Belle and Sebastian, Alanis Morissette, Third Eye Blind, Pretenders, Kamasi Washington, Seu Jorge, Violent Femmes, Gary Clark Jr. and more.
Brookside Park 360 N Arroyo Blvd  Los Angeles
---
Kimya Dawson
Concert Saturday 14 July 2018 – El Cortez – Brooklyn (US)
As one half of New York antifolk duo the Moldy Peaches. Kimya Dawson wrote some deliciously smutty tunes back in the early aughts. As a solo artist she's produced some lovable, off-kilter records (not to mention her part in pulling together the soundtrack for teen prego-comedy Juno). It's been seven long years since her last solo album. Thunder Thighs, and we're pleased to note Dawson seems poised to unveil some new material in the not-too-distant future. If you haven't already, check out her heartrending ode "Cyclone". Before she takes the stage for a pair of intimate gigs in Bushwick.
El Cortez / 17 Ingraham St Brooklyn 11206
---
Gary Clark Jr.
Concert Saturday 14 July 2018 – Grande Halle De La Villette, Paris, (France)
Acclaimed as the savior of blues, Gary Clark, Jr. has shared the stage with many legends of rock and roll. His live performances, as well as his recordings, blend rock, soul and blues, infusing fluid guitar with a guttural howl and a falsetto trill that mix together. Despite his roots, Clark comes across as someone who is forging something unique in the Concert Music world. More specifically, his 2010 self-titled EP debuts his ability to explore various genres of music, while demonstrating his independence and distinctiveness from the heavily saturated music industry.
Austin music club.
Born and raised in Austin and rockin' a guitar since the age of 12, Clark played small gigs throughout his teens – until he met promoter Clifford Antone, proprietor of the Austin music club, Antone's, which was the launching pad for Stevie Ray Vaughan and Jimmie Vaughan. Soon after meeting Clifford, Clark began to play with an array of musical icons, including Vaughan, who, among Vaughan and others in the Austin music community helped Clark along his musical path, facilitating his ascent in the Texas rock & roll scene. Today, Clark is one of the many black musicians in rock & roll who are resurrecting the blues for a mdern-day audience. Critics claim his music highlights how the influence of rock and roll and the blues have ubiquitously shaped virtually every medium of music over the past century, ranging from hip-hop to country music.
---
U2 EXPERIENCE + INNOCENCE TOUR
'U2 coming through…' EXPERIENCE & INNOCENCE Tour heading to North America from May to July and Europe from August to November.
In addition to the tour, U2 detailed their December 1st-bound album Songs of Experience, complete with the LP's 13-song track list. The album features the previously released tracks "You're The Best Thing About Me" and "The Blackout" as well as "The Little Things That Give You Away," which U2 debuted during their Joshua Tree 2017 tour.
"American Soul" is a fleshed-out version of "XXX," the band's collaboration with Kendrick Lamar that featured on the rapper's Damn. The digital and CD deluxe edition version of the LP features four additional tracks. Fans who preorder Songs of Experience will also receive the just-released album track "Get Out of Your Own Way" as an instant download.
24 jun New-York, City (USA) Pennsylvania Station –
16 Sept Lisbon (Potugal) Altice Arena –
20 Sept Madrid (Spain) WiZink Center –
4 Oct Hamburg (Deutch) BarclayCard Arena –
12/15/16 Oct Milano (Italie) Mediolanum Forum –
27 Oct Belfast (Royaume uni) SSE Arena –
5 Nov Dublin (Irlande) 3Arena –
---
Another Brick in the Wall 2019
Just Announced! NEW FOR 2019
The World's Greatest Pink Floyd Show
BRIT FLOYD Another Brick in the Wall 2019
Celebrating 40 years of The Wall, plus much more.
Brit Floyd, the Concert world's greatest Pink Floyd tribute show, returns to the stage in 2019. With its most ambitious and best production yet, a very special 40th Anniversary retrospective of Pink Floyd's iconic rock opera. 'The Wall'.
1979's.
Released in November 1979, a semi-autobiographical concept album from the mind of Pink Floyd founding member Roger Waters. The Wall remains one of the biggest selling albums of all time, and an important moment in Rock music history.
As well as performing a host of musical highlights from The Wall, Brit Floyd will perform classic gems from. The Dark Side of the Moon, Wish You Were Here, Animals and The Division Bell plus lots more.
The Brit Floyd Show has truly become a phenomenon, widely regarded as the world's greatest live tribute to Pink Floyd. Faithfully recreating the scale and pomp of the final 1994 Division Bell tour, complete with a stunning million dollar light show. Large circle screen and arch plus moving lights, lasers, inflatables and theatrics. A Brit Floyd show really is as close as fans will get to experiencing the magnificence of a Pink Floyd Show live.
---
Mari Samuelsen plays the 'Duke of Edinburgh' Stradivarius 1724, generously on loan from Florian Leonhard Fine Violins, London.
Acclaimed Norwegian violinist MARI SAMUELSEN has enjoyed a remarkable rise on the international concert stage through a characteristic mixture of artistry and enterprise. Her concerts combine a breathtaking musical finesse and virtuosity and an imaginative and innovative approach to presentation.For more than 25 years she has also collaborated in duo with her brother. Cellist Hakon Samuelsen, performed together. Connecting with audiences and musicians around the world. In spring 2015. They released their debut album, Pas de Deux, Mercury/Decca (Universal). The centrepiece of which was a new work written for them by the Oscar-winning composer. The late James Horner. It went directly to no. 1 in the Norwegian pop chart., The first classical album to do so in more than 20 years.
Paris.
Mari Samuelsen has appeared as soloist at some of the world's most prestigious venues including Carnegie Hall, New York. Théâtre des Champs – Elysées, Paris; Konzerthaus, Berlin; Smetana Hall, Prague; Kremlin Hall, Moscow and the Victoria Hall. Geneva, most recently making debuts in recital at the Barbican, London and the KKL. Lucerne, with the Los Angeles Philharmonic. at the Hollywood Bowl and the opening concert of the Montreux Jazz Festival.
Christmas concert
She is founder and artistic director of 'A Christmas concert from Norway'. Which she started together with her brother in 2003. It's been broadcast several years on the Norwegian BBC (NRK) and in the US through PBS, hosted by Princess Märtha Louise  of Norway.
Mari Samuelsen has also been artistic director of Yellow Lounge in Norway and bringing the Berlin-born club night to Oslo. Collaborating with partners such as the pre-eminent video artist. Philipp Geist, keeping classical music in the mix at the forefront of contemporary art.
Her late st album, Nordic Noir, released on Decca in September 2017. Went again straight to top of Norwegian pop chart (2nd place). Her upcoming and ongoing collaborations with leading composers of today. As well as electronic music artists such as Jeff Mills and Dubfire. Puts Mari Samuelsen in a position as an artist who is thriving and new thinking. Being innovative and reaching out to new audiences.
---